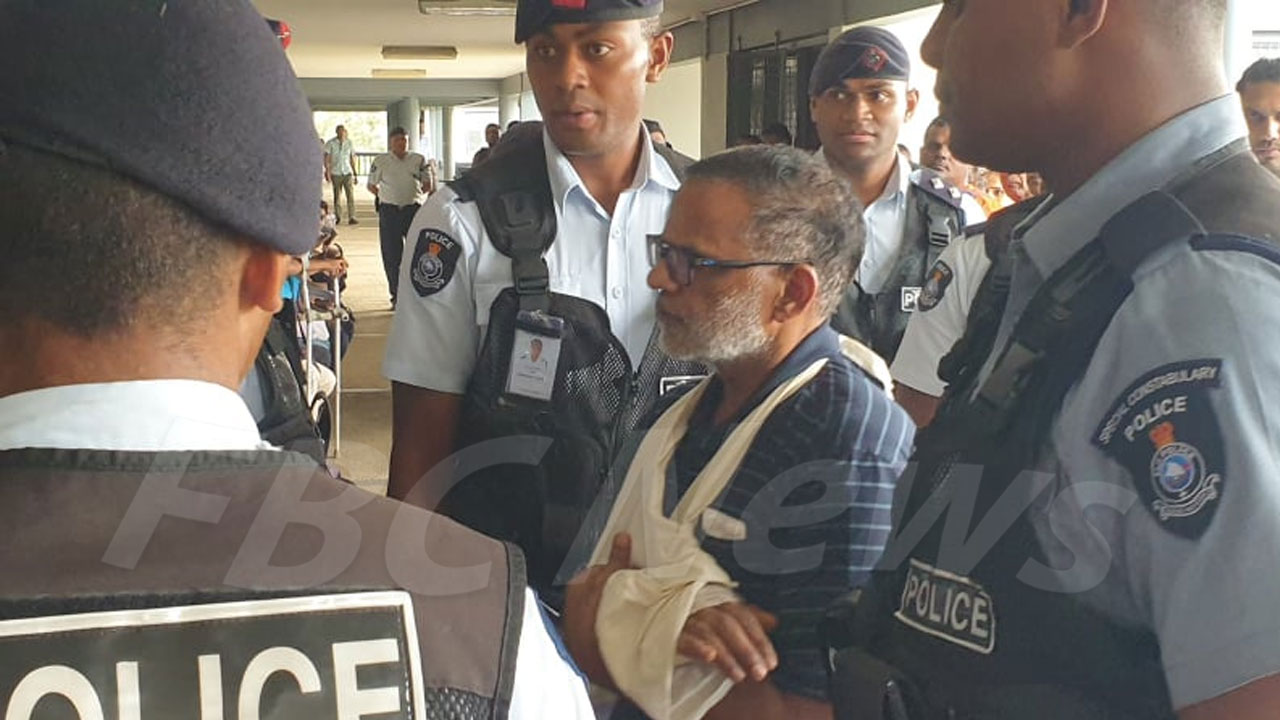 Amrit Sen escorted by police officers
Labasa lawyer Amrit Sen has been denied bail by the Labasa Magistrate Court this afternoon and has been further remanded until the 30th of this month.
Sen is alleged to have caused the death of 49-year-old man John Rusiate at Korotari, earlier this month.
Police Prosecutor Mere Bacau objected bail on the grounds that it's a serious offence, the case is of public interest, and there is a likelihood he will interfere with witnesses, tension is high in Naseakula – where the deceased lived and the accused is a flight risk.
Article continues after advertisement
Sen's lawyer Abhay Singh responded, telling the court it was a 'mere, small accident that resulted in a death and that the media had amplified it and made it a big issue.
He adds, that the deceased had accidentally fallen down and the front tyre went over him, so it is not in the interest of justice that his client is charged with murder.
Singh says being charged with murder does not mean his client is guilty and that under Section 37 of the Bail Act, his client has a right to bail.
He told the court, his client is willing to provide five sureties –four of whom are respected businessmen in Labasa and his wife and all are willing to pay $5,000 cash bail.
Singh also stated that Sen was injured from the accident that happened on June 5th and his condition will require him to be assisted with bathing and wearing his clothes, which his wife does for him adding he cannot be remanded due to his medical condition.
He also says Sen is willing to be placed under curfew, to report to the police station every day, willing to surrender his passport and willing to have a stop departure order issued against him.
Singh told the Court Sen employs 24 people and if remanded, the families of his employees will be greatly affected.
He also argued that Sen is a Fiji citizen, has family here in Fiji, has a farm, a business, is the sole bread winner in his family and has no previous convictions.
Singh told the court the two charges of attempted murder are laughable and that his client has been wrongly accused as he is the only one injured from the incident and is a victim instead.
The Police Prosecutor replied that the accused's medical condition cannot determine his charges and she requested that the case be transferred to the High Court.
Magistrate Bimsara Jagodage ruled that it is a serious offence and that it is not interest of the public that the accused is allowed to be at large on bail.
He adds, this is a strong case for the prosecution and further remanded Sen.
Magistrate Jagodage has also transferred the case to the Labasa High Court on the 30th of June.
After the ruling, Sen's lawyer requested that his client be remanded in police custody and not at the remand centre at Vaturekuka due to his medical condition and that he needs medical examination in three days' time.
However, Magistrate Jagodage reminded the counsel, that all accused will be treated in the same manner.
He gave further orders that Sen be taken to the Labasa Hopsital for medical examination under police escort before being taken to Vaturekuka where he will be remanded until his court date.
Sen was brought to court today under heavy police escort and his arm was in a bandage.
He is charged with one count of murder, two counts of attempted murder, one count of conspiracy, seven counts of act intended to cause grievous harm, two counts of criminal intimidation, one count of assault causing actual bodily harm and one count of damaging property.