News
AG labels Nawaikula 'Notorious'; Nawaikula calls AG young and arrogant
Akosita Tale
July 10, 2018 7:14 am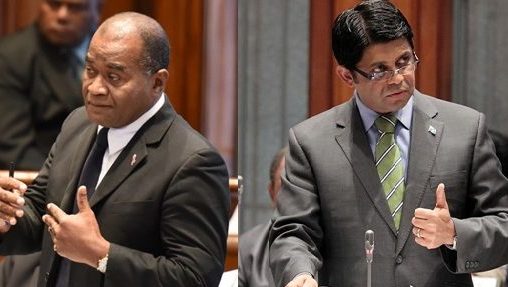 After twelve hours of budget response from both sides of the house, a war-of-words broke out between Attorney General Aiyaz Sayed-Khaiyum and Opposition MP Niko Nawaikula in parliament last night.
Sayed-Khaiyum labelled Nawaikula 'notorious in parliament' for making a comment about FICAC being listed under the Department of Justice which falls under the Office of the Attorney General and later denied saying it.
Following the statement made by Nawaikula, a point of order was raised by the Attorney General.
Article continues after advertisement
"AG: Madam Speaker, the honorable member amongst all the other lies he has just said, he said the FICAC falls under the Ministry of Justice, It doesn't.Madam Speaker, if you pick up the budget book estimates. It's under the independent commissions, where does it say it falls under the Ministry of justice? So he's just said that."
"Nawaikula: I didn't say that…"
"AG: He's misleading parliament…completely misleading parliament. Withdraw it!"
"Nawaikula: I did not say it."
"AG: You said it…"
"Nawaikula: I didn't say it comes under that… you better listen because you don't listen!"
Sayed-Khaiyum requested the Speaker to have Nawaikula's comments verified by the Hansard reporters which was approved, confirming he uttered that comment.
"He's actually just lied to you Madam Speaker when Hansard clearly indicate he actually did say that and he stood up and said "I did not say it". We should do the honourable thing in this house and actually if you make a mistake, if you have said something maybe in the heat of the moment have the audacity, or have the gumption and have the humility to actually admit it that you said it."
Nawaikula hit back at the Attorney General after withdrawing his statement.
"Nawaikula: Sit down and listen, please. You're too arrogant, that's a problem with him. Too young and too arrogant…"
"AG: Madam Speaker under the parliamentary language, I cannot call Honorable Nawaikula a liar but I can say he's lying. He can say to me that I may have arrogance but he can't call me arrogant. That's the standing orders that we have established Madam Speaker."
"Nawaikula: I'm sorry for that if I hurt you so what do you want me to do?"
Speaker Dr Jiko Luveni reminded the parliament to uphold the entirety of the house and advised members to be careful of the language they use.
Parliament resumes at 9:30 this morning.
Keep Connected With The Latest News, Weather, And Sports on Fiji's Best Radio stations.