News
43 coastal communities up for relocation
January 26, 2019 12:51 pm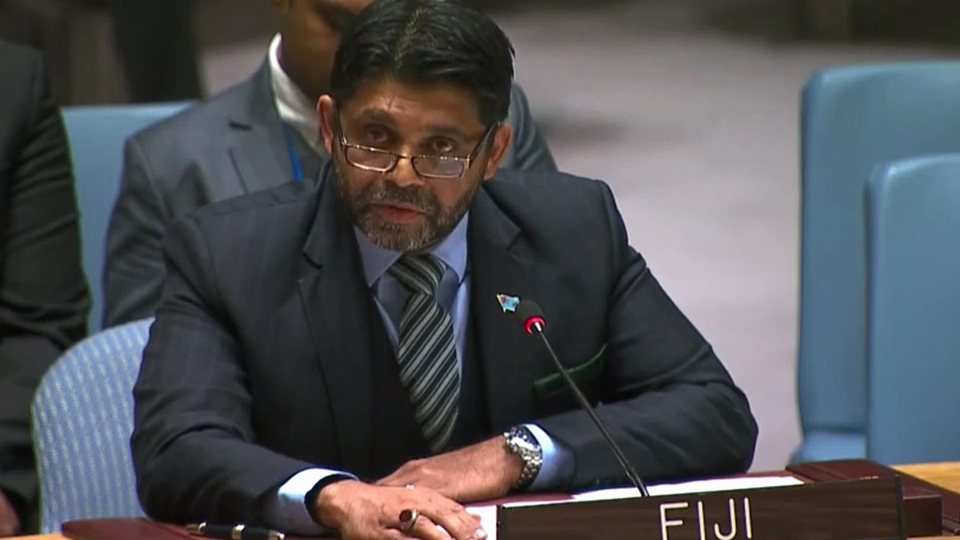 Minister for Climate Change Aiyaz Sayed-Khaiyum at the UN Security Council on the impacts of climate change [Source: Fiji Mission at the UN]
Forty-three coastal communities in the country will soon be relocated.
During his address at the UN Security Council on the impacts of climate change, Minister for Climate Change Aiyaz Sayed-Khaiyum says these relocations follows three communities that have already been relocated.
Sayed-Khaiyum says Fiji will manage these relocations as best as they can, however he stressed to the Security Council that such relocations will not only happen domestically but across borders as well.
Article continues after advertisement
"I've highlighted this not to make any moral point but to tell you we are too uncomfortably close to a tipping point. We are still in the phase where these relocations both domestically and between our countries can be managed voluntarily as Fiji has offered support to host some of our neighbors."
Sayed-Khaiyum says however, soon these will become a force migration on a scale that will place severe stresses on societies and international arrangements.
"Climate change is leading to a loss of edible land, it's leading to a relocation of the people, and this will become even more heightened. It's leading to desertification and is leading to food and health security issues and the depletion of our fish stock and marine resources."
Sayed-Khaiyum has called on the UN to lead and support national and regional efforts to tackle growing security challenges related to climate change.
Reception in honour of the Attorney-General @FijiAG and Min. for Economy, Civil Service, Communications who will be delivering a statement tomorrow at the Ministerial Open Debate of the UNSC "Addressing the impacts of climate-related disasters on international peace and security" pic.twitter.com/U4P6IjilTT

— Fiji Mission at the UN (@FijiMissionUN) January 25, 2019
Keep Connected With The Latest News, Weather, And Sports on Fiji's Best Radio stations.